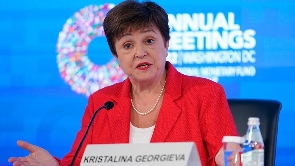 The International Monetary Fund (IMF) in a recent economic forecast has lowered the economic growth of Ghana from 2.8 percent in October 2022 to 1.6 percent for this month in 2023.
The IMF's decision is in line with concerns that debt pressure and funding constraints on most African countries would make it extremely difficult for African economies to expand at their full potential this year.

Ghana was not the only country to be lowered as Nigeria and South Africa were also cut to 3.2 percent and 0.1 percent respectively in the latest World Economy Outlook (WEO).

The World Economy Outlook which is published twice annually was released on April 11, 2023 at the ongoing IMF and World Bank Spring Meetings in Washington D.C-USA.

Touching on the growth of economies in Sub-Sahara Africa, Pierre Olivier Gourinc, the Economic Counselor and Director of the IMF , who also served as the presiding officer over the launch said growth in the Sub-Sahara Africa has also been revised to 3.6 percent from 3.9 percent as recorded earlier.
He added that, on the regional level, the debt debacle, surging inflation, falling currencies and the food shock across African countries were key drivers of the weaker growth.

Like the World Bank, the IMF urged all central banks in the Sub-Sahara Region to keep interest rates tight to help ward off inflation for growth to pick up.

Ghana's revised growth forecast means government was unable to meet its target for the year, which was pegged at 2.8 percent in the 2023 Budget Statement presented in November last year.

EAN/MA