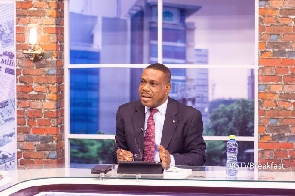 The government has initiated processes to restructure the Internal Audit Agency to effectively prevent financial irregularities in the public sector, Director-General of the Internal Audit Agency, Dr Eric Oduro Osae, has disclosed.
The move is part of measures to ensure judicious utilisation of the International Monetary Fund's (IMF) US$3billion three-year-extended-credit-facility for the country, he stated.

Speaking during the 9th African Federation of the Institutes of Internal Auditors (AFIIA) Governance Forum, Dr. Oduro Osae said the country had, as part of the IMF deal, committed to implementing a number of post-pandemic programmes to build resilience and lay the foundation for stronger economic growth, including "an ambitious structural reform agenda" to reinvigorate private sector-led growth by "improving the business environment, governance and productivity".

IMF's Executive Board, on Wednesday, May 17, 2023, approved a Special Drawing Rights of 2.242 billion equivalent to US$3billion for the country. This decision enabled an immediate disbursement of about US$600million. The rest is expected to be disbursed in tranches every six months, following reviews approved by the IMF Executive Board.

"To this end, the Government of Ghana has initiated a process to restructure the operations of the Internal Audit Agency to enhance independence, provide adequate resources, strengthen technical capacities and focus on the internal audit function to ensure that there's the prevention of financial irregularities in public institutions," he stated.

Unified corporate governance code
Beyond the IMF deal-induced restructuring, Dr. Oduro Osae said the agency has also been working closely with the Institute of Internal Auditors–Ghana, the organisers of the AFIIA Governance Forum and the State Interest Governance Authority (SIGA) to drive change in the public sector.

This collaboration has led to plans to develop 'Unified Corporate Governance Code' to guide boards and management of public sector institutions for improved governance, he stated.

"Ghana is also repositioning and restructuring the internal audit function to be more responsive to the needs of boards and management; and to this end, working hard with the Institute of Internal Auditors Ghana to make sure that this happens," he said.

The forum

Touching on the forum which was themed 'Innovate to sustain', Dr. Oduro Osae said it was a rare opportunity for sharing knowledge, insights and best practices in organisational processes.
He admonished board members and management of organisations to involve their internal auditors and audit committees at all levels of managerial decision-making to enable them to offer the best assurance and advisory services. "This way, we can create sustainable, competitive advantages that can support businesses' growth and development. Weak institutional structures and systems have the potential of derailing gains and successes made through innovation".

IIA Ghana's President, Harriet Akua Karikari, added: "We expect the outcome of this governance forum to challenge and transform corporate leaders to rethink our strategies and explore creative initiatives to improve governance, risk and control processes. This will ensure that we are better able to proactively identify, prepare, monitor and mitigate strategic risks as they evolve".

The AFIIA Governance Forum, which was hosted by Ghana, was designed to provide an incredibly unique platform for dialogue and exchange of ideas. The theme of the event, 'Innovate to sustain', was intended to enable internal auditors to push the envelope just a little bit further, think outside the box, and explore new, bold perspectives.