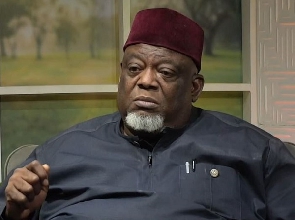 The Director of Business Operations at Dalex Finance, Joe Jackson, has expressed dissatisfaction with the president's statement on returning to the international capital market to borrow.
According to him, the deal with the International Monetary Fund has not been completely finalized; therefore, it is premature to start thinking of going back to borrow.

Speaking at the Qatar-Africa Economic Forum in Doha, President Nana Addo Dankwa Akufo-Addo said Ghana is currently not in a rush to enter the international capital market but will position itself to take advantage of global savings.

The president said, "We have positioned ourselves to be able to go back into the International market which had been a source of funding for us during the first three or four years of our government," the president said, adding, "There is no rush but obviously why not take advantage of global savings, it makes a lot of sense to me. We will try as much as possible to maintain the discipline which is required and the most important requisite for a successful programme."

However, Joe Jackson claimed that the president wasn't clear about whether the action was short- or long-term, pointing out the necessity of finishing the deal before considering returning to the global economy.

"I am not clear in my mind whether the president is talking about borrowing in the next year or so or whether he is referring to borrowing from the international Eurobond or commercial paper market in the next three or four years because we haven't even finished negotiating with the current creditors. We haven't dotted the I's and crossed the T's. We have a commitment as to the way forward, but the deal hasn't been finalized yet, so going back to the market baffles me a bit," a citinewsroom report quoted.

Meanwhile, Finance Minister, Ken Ofori-Atta, has stated that Ghana is yet to know what debt relief it will get from creditors after it received financing assurances from its bilateral creditors on May 12, 2023.
During a joint press conference by the IMF and the Finance Ministry, Ofori-Atta said: "With regards to the issue of the negotiations and discussions with commercial and external creditors, we really are at the beginning of that discussion and therefore cannot really be specific about what 'haircut' or how that will end, but so far discussions have been very cordial, and we hope that with the signals given by the fund, we will also have an accommodation that will suit all parties," he said.

Watch the latest edition of BizTech and Biz Headlines below:





SSD/FNOQ