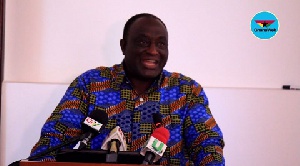 The Minister for Trade and Industry has revealed that the actual implementation of government's flagship policy one-district-one-factory does not lie in the hands of government anymore but with "business promoters".
The Nana Addo Dankwa Akufo-Addo-led NPP government made a campaign promise while in opposition to partner private sector to construct a factor in each of district.

He had said "the first batch of 51 districts, for the implementation of the policy, have been identified, for which the '[2017 Asempa Budget]', as approved by Parliament, had earmarked $465 million for setting up the factories," but that is yet to happen.

Answering questions on the floor of Parliament, Wednesday June 20, the sector minister Alan Kyerematen could not give a definite time when implementation would start. He said, government has provided the "framework" that will support implementation which will be determined by private investors.

"The pace of the implementation of this project is squarely in the hands of its business promoter. They dictate the pace of implementation. Government has already provided the incentive framework to support [them]," he told the house.
He reiterated that the One-district One-factory initiative is primarily driven by the private sector and government will make only a maximum of 30 percent investment in each of the factories.

He said government has already been able to raise some financial capital from stakeholders to be used as and when the need be.

"Government, working through the Ministry of Trade and Industry, has been able to mobilize over GHC2.5 billion from participating financial intuitions that is available to be accessed on a case by case basis".