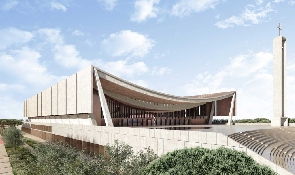 A Tax Analyst, Francis Timore Boi, has suggested the introduction of a 10 percent levy imposed on churches for five years to support the construction of the National Cathedral project.
He argues that the levy which will fall on the gross revenue of churches has a biblical meaning which has been key a principle of the Christian faith.

Timore Boi added that the current trend of using state funds to construct the National Cathedral project will not bode well for the country's tax regime and revenue generation efforts.

"Why should we take taxpayers' money from the consolidated fund to finance [the National Cathedral]? I don't believe it is in the right direction. However, I believe that as a Christian, this should be funded by the church community in Ghana. The best we can do is that churches should be levied between five and 10 percent on their gross revenue over a five-year period so that the money can be used to finish this project," he is quoted by Citi Business News.

Meanwhile, the recently published 2021 Auditor-General's report discovered that a total of GH¢142,762,500 from the national coffers was spent on the Ghana National Cathedral project in 2021.
This particular expenditure was captured under the government's priority programmes and interventions for the year under review.

Since the announcement of the National Cathedral project by government, its model and source of funding have been embroiled in controversies, backlash and pushback from citizens, Civil Society Organisations, lawmakers and the general public.

President Nana Addo Dankwa Akufo-Addo is however hinged on the completion of the project as he recently donated an amount GH¢100,000 despite widespread backlash and criticism.

MA/FNOQ