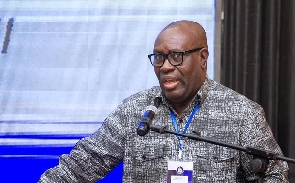 Sun, 23 Apr 2023 Source: GNA
Organised labour has resolved to have incomes of workers improved to help grow pension funds.
At a pre-May Day forum in Accra, the labour front agreed that improved incomes in wages and salaries would enhance the level of pensions and also bolster efforts and workers' performance.

The forum, which was on the theme: "Protecting incomes and pensions in an era of economic crisis: Our responsibility", brought together over 500 participants from the various labour unions in the country.

The Secretary-General of the Trades Union Congress (TUC), Dr Yaw Baah, told the Daily Graphic in an interview that the forum was a precursor to the annual May Day celebrations where workers deliberated on important issues concerning their welfare.

"This is something we do each year before the day to discuss the theme for the year's celebration.

Today, we are deliberating on pensions and our responsibility to protect incomes," he said.

This year's May Day will be held in Bolgatanga, the Upper East Regional capital.
Dr Baah further said the labour front had resolved not to allow pension funds to be part of the domestic debt exchange programme in accordance with the understanding it reached with the government last year.

He said the leadership of the labour front had become aware of a letter inviting the Board of Trustees of Pension Funds to participate in a new alternative offer the government had proposed for pension funds.

"We have scrutinised this letter and other accompanying documentations and have come to a firm conclusion that they amount to roping in pension funds back into the domestic debt exchange programme," Dr Baah added.

As a result, he said organised labour had reached an agreement urging the Board of Trustees of all pension funds not to honour the invitation to participate in the alternative offer meeting.

"This request undermines the spirit and letter of the MoU signed between the government and organised labour," Dr Baah said.

According to him, the labour front would resist any attempt by the government to undermine the agreement reached last year on pension funds.
Poor wages

The Director of Labour Research and Policy Institute of the TUC, Dr Kwabena Nyarko Otoo, said public service wages had not only remained low but had also declined in real time.

For instance, he said in 2023, the base pay on the Single Spine Salary Structure (SSSS) was fixed at GH¢397.89 per month, which was less than the mandatory minimum wage of GH¢401.76.

"In the last 12 years of implementing the single spine pay policy, the base pay has suffered real decline," Dr Otoo said.

He said the highest pay on the SSSS was pegged at GH¢9,625.51 per month, which essentially meant that the country was paying its top public servants less than $1,000 per month.
Source: GNA