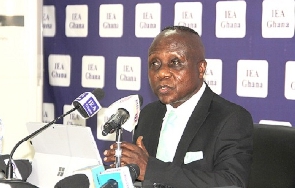 The Institute of Economic Affairs (IEA) has urged government to exclude rural banks, pension funds and individual bondholders from the Domestic Debt Exchange Programme (DDEP).
Director of Research at the Institute, Dr. John Kwakye, believes that the move is necessary given their financial vulnerability which he says will be affected under the debt restructuring exercise.

Speaking with journalists at a forum organised in Accra on January 24, 2023, Dr. Kwakye said contributions from rural banks are primarily for the less privileged and therefore an inclusion in the DDEP will deprive them of the hard-earned investments.

"Rural banks again? Because they take monies from poor people and invest in government bonds, why will you seize their monies? If there is anything at all, deal with the commercial banks," the IEA Director stressed.

Touching on the three-year moratorium on repayment of principal under the DDEP, Dr Kwakye described the move as regressive and therefore wants government to rather implement a new coupon of 8-12% over the new maturity period.

"They need to adopt a new coupon regime of 8-12 percent over the new maturity period and also consider abolishing the 3-year moratorium on the repayment of principal to save individuals and banks", he added.
He, however, advised that for any debt restructuring to be successful, it must safeguard the stability and integrity of the financial system.

He added that it must also be designed to prevent capital flight and increase in the cost of borrowing among others.

"There must be proper stress-test exercise at the institution-by-institution level to study the impact of different DDE proposals on financial sector viability and stability and it must not impair government ability to fund itself on an on-going basis," Dr. Kwakye outlined.



MA/FNOQ