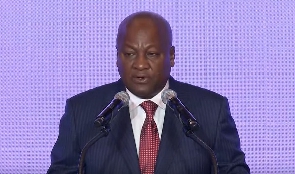 Former president, John Dramani Mahama, has lashed out at the Minister of Finance, Ken Ofori-Atta, and the Bank of Ghana Governor, Dr Ernest Addison, over their varied excuses made in the management of the economy, which is now under an IMF programme.
He suggested that the finance minister [Ken Ofori-Atta], who he [John Mahama] described as 'incompetent,' has stuck to the excuse of using COVID-19 and the Russia-Ukraine War to evade responsibility over the current economic crisis in Ghana.

The former president further called out the BoG Governor, Dr Ernest Addison, for resorting to using the Domestic Debt Exchange Programme as reasons for the GH¢60 billion in impairment losses recorded by the Central Bank in 2022.

"An incompetent Finance Minister damages the economy and uses Covid-19 and Ukraine/Russia war as cover-ups. A pliant Governor destroys the Central Bank and seeks to use DDE as a cover," John Mahama wrote via Twitter on August 10, 2023.

The comments made the former president comes on the back of calls made the Minority in Parliament, clamoring for the resignation of the BoG governor and his deputies due to the losses recorded by the Central Bank in 2022.

But the Bank of Ghana has insisted that the impairment losses recorded in 2022 was largely due to government's Domestic Debt Exchange, COCOBOD loans and depreciation of the cedi.

Officials at the Bank have explained that it took about 50 percent of the haircuts associated with the government's debt swap programme.
An incompetent Finance Minister damages the economy and uses Covid-19 and Ukraine/Russia war as cover-ups. A pliant Governor destroys the Central Bank and seeks to use DDE as a cover.#BuildingGhanaTogether #TheGhanaWeWant

— John Dramani Mahama (@JDMahama) August 10, 2023
YAM/NOQ
Watch the latest edition of BizTech and Biz Headlines below: