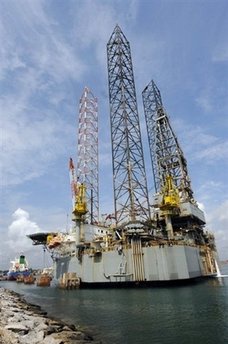 Mon, 13 Jul 2009 Source: India times
India's State-run Oil and Natural Gas Corporation (ONGC) has joined the race to buy a 30% stake in Jubilee oil fields in Ghana from the US-based Kosmos Energy, two persons familiar with the development said.
ONGC Videsh (OVL), the overseas arm of the country's largest oil explorer, has initiated the due diligence process and is expected to put in a formal bid this month, said a person privy to the decision. OVL has visited the data room that Kosmos Energy opened for potential bidders, he said. OVL is likely to team up with a foreign company to put in a bid, which could be in the range of $3-4 billion, said another person privy to the development.

ONGC chairman RS Sharma declined to comment on this issue. "As per internal decision, no one is authorised to speak on any potential deal," he said in a text message.

The race for the oil fields promises to be a closely contested affair as some global oil companies have already expressed their interest. The list of the potential bidders includes Royal-Dutch Shell, US-based Exxon Mobil and Chevron Corp, ENI of Italy, Ghana's national oil firm and China National Offshore Oil Company (CNOOC).

Kosmos Energy has appointed Standard Chartered and Barclarys as its advisors for the sale. Kosmos, a closely held company based in Dallas, owns about 30% in Tullow Oil-led venture that manages the field's development.

The other partners in Jubilee include Anadarko Petroleum, also based in the US.

Analysts said oil assets have become attractive with crude oil prices losing nearly 20% in the past two months. The Jubilee oil fields are estimated to have oil reserves of 1.2 billion barrels and its commercial production is likely to start in June next year.
"Mergers and acquisitions are gathering momentum in the world energy sector with crude prices softening, making oil assets cheaper than what they were three months ago. The competition is going to be fierce for the Jubilee oil fields, given Ghana's state firm has shown interest," said an analyst with an international firm.

According to the website of Kosmos Energy, Jubilee is one of the largest oil discoveries in the West Africa. The valuation of the Jubilee oil fields, off the Ghana coast, is estimated at $15 billion.

In a recent PwC report says oil firms from emerging economies are responsible for more than half the sector's biggest mergers and acquisitions by value this year. Chinese firms lead the pack, followed by Russians.

Although Indian companies have failed to buy any significant oil asset this year, they have given tough competition to Chinese firms in almost all overseas assets. Last year, ONGC acquired London-listed Imperial Energy for $2.1 billion.

ONGC shares on Monday gained marginally to close at Rs 992 on the BSE. The stock has lost 7% in the past one week and 12% in one month.
Source: India times