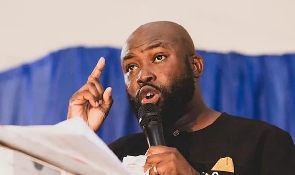 The coalition of the Individual Bondholders groups has suspended their intended march to the Ministry of Finance scheduled for today July 11, 2023.
According to a statement signed by the Conveners of the groups, Senyo Hosi and Dr. Joel Djangma Akwetey, the government has responded to the intended action by announcing the payment of outstanding bonds.

They noted that "Even before the #OccupyFinance march would begin, victory has been brought to our doors with Government announcing at 11:40 pm yesterday of its payment of all outstanding principals and coupons and a commitment to honour the MoU of 16th May 2023."

The group has therefore suspended the march under the condition that "unless the Government breaches its commitment again."

"We remain indeed angry, but we choose to exercise extreme self-control, provided that the Government continues to fulfill its obligations promptly as agreed," parts of the statement read.
The group also emphasized that the government is aware that the negotiations they have engaged in have been in good faith.

"The agitations today are only a result of its own failings and poor communication. All should note that there is a limit to our patience," they said.

SSD/NOQ