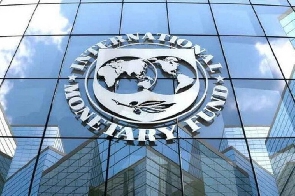 Civil Society Organisations (CSOs) operating within the education sector, in collaboration with pre-tertiary level teacher groups, have issued a clarion call for government to painstakingly safeguard the entire education sector's funding streams and revenue allocations against International Monetary Fund (IMF) austerity measures.
They are concerned about how government is significantly cutting down on pre-tertiary level educational revenue and resources allocations, especially at the basic level because it does not want to touch the flagship free senior high school (FSHS) programme, as a means to meet the IMF conditions for funding support.

Executive Director of Africa Education Watch (Eduwatch), Kofi Asare, in his remarks at a roundtable discussion on Ghana's IMF programme and its implications on public basic education, bemoaned that even before the IMF board's approval government rolled out a medium-term expenditure framework spanning 2023-2025 that cuts expenditure on education – a decision he described as very unfortunate.

"As the IMF seeks to impose economic austerity measures on the country, we call for education to be insulated from these harmful policies. Though the IMF is not directly asking to touch some social interventions in the education sector, the conditionalities given leave government with no option but to sacrifice some allocations – which we have started seeing.

"Education is a basic human right and an essential element for the development of our society. Educational systems must be given the resources they need to provide quality education to all," he said.

Additionally, he said in the 2023 budget education's share of public expenditure declined to a two-decade low of 12.9 percent – below the international financing benchmark of 15-20 percent, all in an attempt to meet the IMF demands.
Similarly, convener for the Campaign Against Privatisation and Commercialisation of Education (CAPCOE), Richard Kwashie Kovey, stressed that austerity measures – such as budget cuts, reduced public spending and net hiring freezes – have devastating effects on education.

"These policies undermine the ability of pre-tertiary schools, especially basic schools, to provide quality education; and also contribute to widening the educational gap between the rich and poor. The consequences of these austerity measures on education are felt most acutely by marginalised communities, single-mother households, and low-income families in remote areas.

"Therefore, we urge governments and the IMF to insulate education from any austerity measures imposed as a condition of financial support," he stated.

A representative of the National Association of Graduate Teachers (NAGRAT) Ernestina Boatemaa, who is also a teacher at the junior high school level (JHS), lamented that for over three years now following the introduction of the new curriculum, textbooks have still not been provided, leaving teachers and schools to either use their discretion or depend on old books to teach.

Additionally, she bemoaned the state of education infrastructure – saying it is nothing to write home about, and hence government should not exacerbate the situation by cutting funding to education, since this will have dire long-term consequences for children and the country at large.
National President-Conference of Heads of Basic Schools, Nicholas Nii Kpakpoe Addo, mentioned the capitation grant – an initiative introduced in Ghana in 2005 to facilitate the achievement of comprehensive and sustainable development in the education sector, including free education for especially the basic level – has been in arrears for the past two years.

To ensure that a sector as critical to national development as education is not impacted negatively by the yet to be finalised IMF programme, the CSOs and teacher unions urged government not to sacrifice investments in the education sector.

They said education, investment in education must be seen as key drivers of economic recovery and growth, thus increasing funding to the sector and ensuring that it is protected is crucial to national economic health.