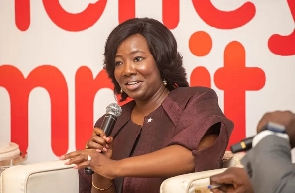 The Head of Group Business at StarLife Assurance, Dzifa Fiati, has urged insurers to take advantage of the growing trend in technology to remain relevant and to meet market demands.
According to her, this is crucial in the quest to boost insurance coverage or penetration in the country. She is confident that leveraging technology will enable the insurance industry to withstand growing competition in the financial sector and position it to meaningfully contribute to the country's GDP.

Fiati made the call at the third edition of The Money Summit (TMS) organised by B&FT under the theme 'Africa's robust financial sector: the catalyst for sustainable economic growth'.

"Insurance particularly has relied on traditional ways in its operations. Our penetration is still below two percent whereas in some other markets it is about 17 percent of GDP. So we have realised that we have a lot of untapped market and there is a lot that needs to be done," she said.

She further added that more collaboration with stakeholders within the sector is key to boosting insurance coverage.

She also took the opportunity to laud operations of the fintech industry into the financial space, adding that its presence is a key enabler in the business environment as it will help improve efficiency, reach out to potential clients and enhance operations.

She added that in the capital market space where delivering better service to customers is paramount, fintech is a complementary invention.
"We welcome fintech on board to help reduce cost and to meet the market demands. We welcome them as enablers to our business," she said.

Speaking on the topic 'Africa's robust securities industry: the role of insurance, pensions, fund managers, and other market players', Fiati resounded the importance of partnerships and prioritisation of measures that ensure progress across the sub-region.

She highlighted the significance of a robust securities market to the country's economic growth, saying: "Attaining a robust securities industry will promote private enterprise expansion and thus stronger national economic growth. If you have stronger companies that have greater access to capital for their growing business then there is potential for creating more sustainable jobs, which can also lead to a reduction in poverty. A robust system will finance the growth of large corporations and provide sustainable funding for government, banks and large-scale or long-term projects".

She however lamented that the Domestic Debts Exchange Programme (DDEP) has taken a huge toll on the cash flow of the insurance industry because stakeholders were not adequately consulted in the decision processes.

Meanwhile, she is optimistic about the industry's future and its ability to rise above the occasion and offer customers the best of services and products.

She called on insurance companies to intensify education on the benefits of insurance to prospective clients, and also be transparent with the terms and conditions attached to their products.