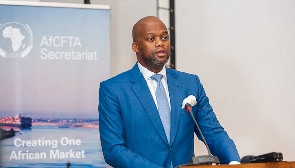 Secretary-General of the African Continental Free Trade Area (AfCFTA), Wamkele Mene, has noted that intra-Africa trade is the only way to help African economies build robust and more resilient economies to absorb any shock – internally or externally.
This, he said, will help managers of African economies to stop running to the International Monetary Fund (IMF) and other financial institutions for monetary support whenever there is an economic meltdown.

Speaking at the AfCFTA Business Forum in Capetown, South Africa, Mr Mene disclosed that the Bretton Woods institution has diverted global capital targeted at helping ailing economies bounce back on track to the advocacy of climate change.

He stressed that intra-Africa trade on the continent will mitigate the risk of reduced support for development finance as there would be a boost in trade which would in turn reflect in the GDP of every African economy.

"What is clear from the statements that are coming from Washington from Monday until the end of the week is that the direction of global capital is going the wrong way. Global capital is not coming south, it is remaining north. The sovereign debt crisis that we are experiencing in Africa is clear from the statements that have come out that the posture is not to be sympathetic to the sovereign debt crisis in Africa," he said.

The AfCFTA Secretary-General further said, "…What we are hearing is that the orientation for providing finance must move from development finance and fighting poverty to climate change…they say if you focus on climate change, all your problems will be solved…so my personal opinion is that we are not going to see increased volumes of development support from the institutions whose mandate it is.
"Intra-Africa trade is the best tool we have and resilience. Intra Africa trade is what is within our means as Africans to mitigate the risk of reduced support for development finance which I think is unfortunate. If we boost intra-Africa trade, we will see the contribution to GDP, to Africa's combined GDP increasing," he pointed out.

In the case of Ghana, the government on July 1, 2022, announced its decision to engage the International Monetary Fund (IMF) for $3 billion financial bailout programme amidst the economic crisis.

Subsequently, a team from the IMF arrived in the country from July 6 to July 13, 2022, to engage Ghanaian authorities for a possible economic support programme.

A staff-level agreement between the Government of Ghana and the IMF was reached in December 2022.

The IMF programme, according to the government is aimed at restoring macroeconomic stability and safeguarding debt sustainability among many others.
Meanwhile, IMF has assigned Leonard Chumo as Resident Advisor to the Bank of Ghana.

Watch the latest edition of BizTech and Biz Headlines below:





ESA/FNOQ