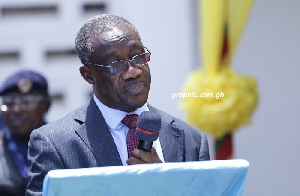 Inspite of efforts by government to make Ghana the most attractive place to do business in Sub-Saharan Africa (SSA) and the rest of the world, the investor community is unhappy about persistent corruption which, it says, is hindering growth and investment.
The American Chamber of Commerce (AMCHAM), European Business Organisation (EBO) Ghana and other business associations say even though they are interested in investing in Ghana, they are keen to ensure that their capital is not wasted lining the pockets of public officials.

Businesses lament extortion from tax officers

Business operators say officials of the Ghana Revenue Authority (GRA) compel them to part with hefty sums of money before signing off their tax documents.

The development, the investors say has become one too many.

The EBO represents European business interests in markets outside the European Union (EU).

According to the Managing Director of the EBO Ghana, Nico van Staaldenuin, in 90 per cent of cases where the GRA has to sign off the tax documents they demand bribes.

"One GRA Officer demanded GH¢80,000 from a businessman before signing off his annual report for export out of Ghana," The victims are scared to report for fear of being victimized or frustrated.
Law enforcement officers discourage investments

Business advisory and trade facilitation expert with USAID, Ms Jane Reindorf-Attoh maintains that law enforcement officers, by their actions hardly create the impression that Ghana is the best place to do business.

According to Ms Reindorf-Attoh, in 2011, while on a business development tour in Ghana with a large US-based multi-national company that was ready to invest about $300million into Ghana's ports, the team had a first-hand experience of extortion from police officers as they (investors) travelled around the country.

"Excited about attracting investments into Ghana, I was busy co-coordinating meetings and heading to Takoradi to see the port and one of the first things that my executives asked was 'why are we being stopped continuously along the way by the law enforcement officers and being asked for money?' and I was very embarrassed.

Slow justice stifling businesses

The slow, tortuous and cumbersome nature of the country's justice delivery system remains a major concern for many businesses.

Businesses incur huge costs when they facilitate the transportation (by road and air) of their legal teams to courts outside Accra to have their cases heard. There is increased cost and frustration on the part of the businessman or woman when the courts for one reason or another fail to sit.
"Last week, I had a team of lawyers travel some by road others by air to Kumasi with the clients only to arrive to be told that the court is not sitting; just this week I had another team of lawyers travel to CapeCoast

Demand for results

United States Ambassador to Ghana, Mr Robert Jackson recently stated that investors wanted to "see action and tangible results," from government beyond what it is saying about increasing transparency, fighting corruption and improving the ease of doing business in Ghana.

"We look to government to hold people accountable when laws are broken," he demanded of government.

Corruption he indicated hinders the ability of Ghanaian entrepreneurs and innovators to realize their true potential, further stifling growth.

Expedite reforms in courts for efficiency

Ambassador Jackson urged government to expedite reforms at the country's courts to ensure that the court system works for efficiently and "is willing to prosecute and convict guilty parties, no matter their wealth or status."
Judicial reforms underway – Chief Justice

Chief Justice (CJ) Sophia Akuffo has indicated that the Judicial Service has not rested on its oars in its bid to ensure an independent, impartial, effective and efficient justice system. According to her, a bold reform programme commenced in 2001 to transform the systems for justice delivery in Ghana.

Dealing with corruption in business transactions

The CJ points out that the Judiciary is conscious of the advantages of incorporating e-business into court proceedings one of which is the promotion of transparency.

The automation of court hearings, according to the CJ has meant that court records have become increasingly easier to access and turn around time for court business has increased.

Ghana drops in Ease of Doing Business rankings

Ghana ranked 120th, down from the 108th position last year. Accordingly, the country placed 12th in sub-Saharan Africa.
The report revealed that it costs businesses more to export and import domestically in Ghana than in Ivory Coast.

It will cost $132 in transport to export domestically in Cote d'Ivoire but a business would be required to spend $487 on transport to export in Ghana.

Domestic importers in Ghana spend as much as $480 in transport while their counterparts in Cote d'Ivoire spend $206 on transport.