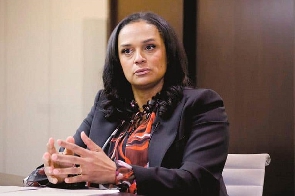 Isabel dos Santos, the daughter of Angola's former president, could be pulled into a $400 million London lawsuit brought by Angolan telecoms firm Unitel.
Unitel sued dos Santos' Dutch company Unitel International Holdings (UIH) in 2020 over loans that were provided to fund UIH's acquisition of telecoms company shares.

On Tuesday, Unitel's attorneys told London's High Court that the loans were not returned and that approximately $395 million plus interest was still owed.

Unitel has asked to personally add dos Santos, Africa's first female billionaire, whose father, Jose Eduardo dos Santos, ruled Angola for 38 years until 2017 to its case against UIH.

The company claims that dos Santos, a director of Unitel at the time the loans were granted to UIH, violated her duty to Unitel by failing to make efforts to guarantee UIH returned the debts.

However, Isabel dos Santos' lawyers stated in court filings that Unitel is to blame for UIH's incapacity to pay because of its alleged role in the "illegal seizure of UIH's assets by the Angolan state." Unitel disputes the charge.

For years, Isabel dos Santos has been accused of corruption, including allegations by Angola that she and her husband diverted $1 billion in state funds to firms they had stakes in during her father's presidency, notably oil giant Sonangol.
Her assets in Angola were taken for almost $1 billion last year, and other assets linked to her were seized in Portugal.

In November, the international police organization Interpol issued an international arrest warrant for dos Santos.

Dos Santos, who resides primarily in Dubai, has denied any wrongdoing on numerous occasions, and her lawyers stated on Tuesday that the allegations against her are part of a "political conspiracy."

In court records, her lawyer, Richard Hill, stated that she "vehemently denies that she has breached any of her director's duties."

Judge Mark Pelling will rule on Unitel's request to add dos Santos to the case on a later date.