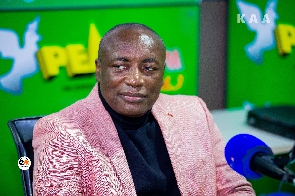 Mon, 3 Jul 2023 Source: GNA
Kwabena Adjei Agyepong, a flagbearer hopeful of the New Patriotic Party (NPP), says he will prioritise the "Ghana Poultry Day" initiative and expand it as a principal policy if he wins his bid as a flagbearer and ascends the presidency.
He said there was a significant potential to expand the production of chicken products in Ghana as the country currently produced less than 15 percent of its poultry consumption, describing the situation as tragic for the agricultural industry.

Agyepong said this at the third edition of the Ghana Poultry Day and the Ghana Chicken Festival organised by Agrihouse Foundation in collaboration with Boris BS Chicken, Ministry of Food and Agriculture, and the Ghana Poultry Farmers Association at the forecourt of the State House, Accra.

He said there was a need for government to prioritise and especially promote the local poultry industry, adding that the agriculture ministry must bridge the gap by creating an enabling environment for poultry farming to thrive.

"The capital cost, production cost and the cost of feed have to be significantly reduced for poultry farmers to increase production," the flagbearer hopeful said.

"We need initiatives to produce high-quality feed locally as a key to the success of the local poultry industry. A thriving poultry industry value chain will provide massive opportunities for the teeming youth and improve the country's GDP," he said.
He said local poultry was capable of meeting the nutritional and supply demands of Ghanaians and called for cold stores and entities in the poultry supply chain to prioritise local poultry products.

Agyepong also urged Ghanaians to change their mindset on nutrition and prioritise protein over carbohydrates in local cuisines.

They should also adopt healthy eating habits by deskinning the chicken and focusing on the chicken breast.

Agyepong emerged as the winner of the Ghana Chicken Festival competition.

He cooked stewed plantain and chicken and shredded chicken with spaghetti.
Other participants were Zanetor Agyeman-Rawlings, MP for Korle Klottey, and Patrick Ofoe Nudzi, a Journalist with the Ghana News Agency.

Watch the latest edition of BizTech below:




Source: GNA