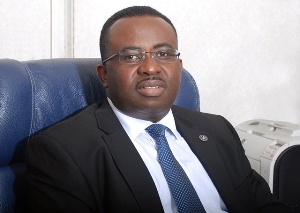 The Second Deputy Governor of the Bank of Ghana, Dr Johnson Asiama, has not resigned his post as being reported, 3News can authoritatively report.
Highly placed sources close to the governor whose tenure ends in April 2020 say he is still at post, describing the media reports about his resignation as false.

Reports emerged Monday morning that Dr. Asiama has resigned his post as the second deputy governor of the BoG.

The reports claimed he had taken his accumulated leave leading to his exit from the bank by the end of December 2017.

It suggested he has challenges working with the new government and some key senior persons at the BoG because he is perceived as an "outsider."
Dr Asiama's decision to move on was communicated in the first week of December to some senior persons at BoG, the reports further claimed.

"For now the story is not true…the man is still at post," one of the sources close to Dr. Asiama told TV3's Alfred Ocansey Monday afternoon.

Dr. Asiama's legal team is working on an official statement to deny the reports, 3News can report.