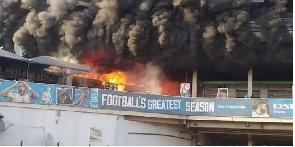 According to the Ghana National Fire Service (GNFS), 30 shops were severely damaged in the gore that destroyed parts of the Kejetia market.
In its update, the Service stated that the affected stores sold hardware materials such as carbide, turpentine, paints, and other highly flammable solvents.

GNFS said the destructive fire damaged three other shops and their contents in the enclave.

It said 217 out of 250 shops and their contents at the affected extension end of the Kejetia Market were salvaged from the ruinous fire by the Firefighters.

The GNFS noted that no fire officer was injured, and casualties were yet to be ascertained.
"No known Firefighter injuries. Civilian casualties yet to be ascertained. Fire damage to stores and wares in the affected portions is extensive."

It said "the fierce fire which started at 1615 hours but relayed to the GNFS at 1630 hours got completely extinguished at 1930 hours by the gallant and dexterous Firefighters.

The first appliance got to the fire scene at 1633 hours. It took less than 10 minutes for 4 other fire engines to arrive at the scene to augment with firefighting with the support from the activation of the automatic firefighting equipment at the facility".