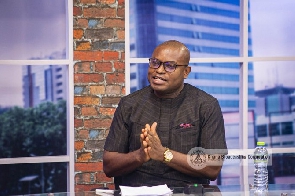 Richard Ahiagbah, the Director of Communications of the governing New Patriotic Party (NPP), is suggesting a breaking up of the monopoly enjoyed by Ghana's electricity distribution company, the Electricity Company of Ghana (ECG).
According to him the monopoly ECG enjoys as an organization is making it inefficient.

He pushed for the idea of separate metres adding that it does not make business sense for ECG to insist on serving over 7000 customers with one bulk metre.

The NPP's Director of Communications registered his displeasure in a tweet dated January 24, 2023, in reaction to astronomical electricity bills emanating from the Kejetia market in the Ashanti Region.

The tweet reads: ''I stand with Kejetia traders. The monopoly of ECG makes it inefficient.

"Traders at the Kumasi City Mall and other malls have their separate meters.

"It does not make business sense for ECG to insist on servicing 7000 customers with one bulk meter."
The Communications Director's tweet came on the back of a story published by Classfmonline.com on Friday, January 20, 2023.

Read the story below:

More traders at the Kumasi Kejetia Market in the Kumasi Metropolis of the Ashanti Region are contemplating closing their shops due to high electricity bills.

Already a number of them have closed their shops in the market space because of high electricity bills.

Some of the traders say they cannot continue to pay such exorbitant bills and for that reason, they have no option but to close their shops.

A trader told Class 91.3 FM's Elisha Adarkwah that he paid as much as GH¢977 to settle an electricity bill for September 2022 and has no option but to lock the shops and leave the market if things do not change any time soon.
The traders noted that things will get out of hand as the electricity tariffs have been adjusted upwards by the Public Utility Regulatory Commission (PURC).

According to them, they have fought on several occasions for separate meters but the Management and the Board of the market have refused to grant them their wish.

They have, therefore, called on President Nana Addo Dankwa Akufo-Addo to intervene.

According to them, the president must help prevail on the management of the market to give them separate meters else their businesses will collapse.

The Chairman of the Federation of Kumasi Traders, Nana Akwasi Prempeh, has also called on the management of the market to do the needful by allowing traders to manage their electricity bills by granting them separate meters.