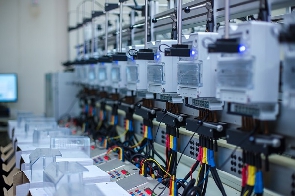 Traders in Kumasi Kejetia in the Ashanti region are protesting against the management of the Kumasi City Market Limited over meters for the shops within the market.
The traders are protesting against exorbitant monthly electricity bills.

A 7.2 square meter shop in the market which uses a ceiling fan, television, and two bulbs allegedly pays an average electricity bill of GH¢1,200 each month.

The facility which hosts over 7,000 shops depends on one bulk electricity meter for billing consumption of power in the market.

The traders are, therefore, demanding an explanation on why the whole market should be sharing one meter for over 5 years with huge monthly bills.

Aggrieved traders have started locking their shops in protest against the market management.
Speaking to GHoneTV News the President of the Federation of Kumasi Kejetia traders, Nana Kwasi Prempeh said, the Electricity Company of Ghana (ECG) has imported 10,000 pre-paid meters for installation, but the board in charge of the market has refused to support the installation of the meters.

Mr. Kwasi Prempeh, therefore, demanded an explanation as to why Kumasi City Market Limited has refused to ensure each shop in the market gets a separate meter.

"Why is it that the state agency that has been mandated to supply power to citizens within this enclave we don't want to give them the right to fix the meters?

"ECG tells us that because of Kejetia they have imported 10,000 meters but they cannot come on their own and fix them unless they have clearance from the board. What is delaying the board, what interest do they have? These are some of the questions that we are asking and we are not going to relent in our efforts on this issue. We are going to use every possible legal means to push the board and ECG to come and fix the meters for us," he added.

As part of their planned week-long protest in the coming week, the traders have started shutting their shops to business.
The Kumasi modern Kejetia market was commissioned on May 2, 2019.

The US$298 million Kejetia market project, which is in three phases, comes with a convenient parking area for vehicles, a modern bus terminal, a fire station, a clinic, a police station, and a crèche.

Other community facilities for the market include modern security features, modern sewerage and sanitation facilities for the market.