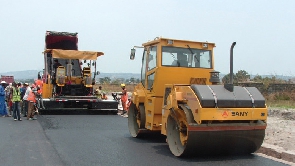 Some landlords and tenants at Kuntenase in the Bosomtwe district of the Ashanti region have said they will resist every attempt by government to demolish their houses to make way for the construction of the Lake Road if proper compensation is not paid to them.
According to the landlords whose properties have been affected by the Lake Road construction, the compensation being allocated to them by government is too small and cannot be valued to the cost of a house in Ghana currently.

The affected landlords therefore want government to increase the compensation.

Some of them spoke to Class 91.3 FM's Ashanti Regional Correspondent Elisha Adarkwah.

"We want them to add more to the compensation because in this Ghana, inflation has gone up. The only thing we need government to help us [with] is that, they must increase the compensation or to set up a committee, to sit down and negotiate with us," one said.

According to the landlords, the notice is also too short compared to the amount being paid them as compensation.
They therefore want the initial 10 percent being paid as compensation by the contractor to be increased to at least two-thirds of the amount of the compensation.

An affected landlord noted: "Even if they pay half or two thirds… So we're pleading with government to intervene so that everything will go smoothly," one of the affected landlords said.

"Because of the date, the money is too small, I didn't collect it. Because the notice is too short, they expect me to move out right after taking the money, even when you're renting a room and you're given a notice of eviction, if you don't find a place, you can still negotiate for more time, but why is it that they expect us to move out immediately so demolishing can take place? It does not work that way."

A demolishing exercise has to be carried out in order to make way for the construction of the road, hence efforts to have the owners of the affected houses compensated to make way for the project.