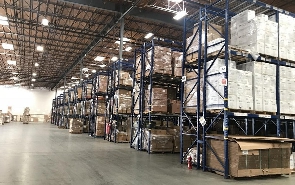 The logistics industry in Ghana is recovering strongly from effects of the COVID-19 pandemic but limited warehousing remains a challenge, the 2022 1st Quarter Logistics Managers Index Report has revealed.
The country's logistics sector has recorded an LMI value of 64.7, indicating growth in logistics activities with a positive outlook as the Ghanaian economy, like most other African economies, begins to recover from the effects of COVID-19.

Currently, the demand for warehousing outstrips supply; and even though warehouse capacity was above the threshold, it was the lowest among all the indicators. The study, therefore, called for setting up more warehouses to address current and future needs.

The LMI Report measures growth or decline of Ghana's logistics industry on a quarterly basis, using eight key logistics components: the overall Logistics Managers Index (LMI) for Ghana is measured based on eight key logistics components which include inventory levels, inventory costs, warehousing capacity and warehousing utilisation. The others are warehousing prices, transportation capacity, transportation utilisation, and transportation prices.

This LMI value is expressed as a percentage with a mid-value/threshold of 50%. An LMI value above 50% indicates a growing logistics industry, while a value less than 50% indicates a contracting one.

However, logistics cost is generally high, with three of the cost-related indicators – warehouse prices, inventory cost and transport prices – recording the highest values in first-quarter 2022.
"There is a great need for more warehousing and customer fulfillment facilities in proximity to major towns. The prospect of growth in online retail also indicates that increasing demand will be placed on available warehousing space. It is therefore not surprising that warehouse prices are high," the Report noted.

Further growth in the country's logistics sub-sector is expected to positively impact other sectors of the Ghanaian economy.

"Predictions by respondents indicate continuous growth in logistics activities in Ghana within the year, which will positively influence several sectors of the Ghanaian economy. This projection from the LMI is supported by the World Bank's projected growth rate of 5.5% for Ghana in 2022.

"Even though the World Bank estimates this projected growth to be broad-based, it will be boosted by a relatively stronger industry sector that is undergirded by logistics activities. Hence, logistics activities will play a major role in the nation rebounding post-covid."

The Logistics Managers Index (LMI) is a new tool developed by the Centre for Applied Research and Innovation in Supply Chain-Africa (CARISCA), based at Kwame Nkrumah University of Science and Technology.