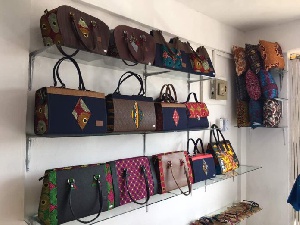 "When he walked into my shop, he was amazed by some of the shoes he saw. He asked for the price of a particular one and I told him it's GH¢250. He was ready to buy until he asked where the shoes came from. I joyfully told him it was made right here in Ghana. Immediately, he said the price is too expensive for a shoe made in Ghana, so he didn't buy it and walked away," Gideon Denzo, an indigenous shoe manufacturer, told the B&FT in an interview.
The experience of Mr. Denzo, CEO of Giddins Shoes, is one of many faced by local entrepreneurs, especially those in manufacturing goods.

The campaign to consume more goods made in Ghana is yet to translate into attitudinal change, as there is still a high appetite for foreign goods among local consumers.

On a very good day, when a buyer is faced with the option of choosing between a locally made product that sells for less than an imported product with a higher price, they very often choose the foreign product. The reason? They always attribute it to quality. Local products, though of high quality, are often perceived as inferior to imported foreign goods.

This perception is so entrenched that if a locally manufactured product has a 'Made in Italy', 'Made in Germany', 'Made in UK' or 'Made in USA' label on it, it sells quicker than having a 'Made in Ghana' label affixed.

Mr. Denzo told the B&FT how real and true the situation is. "There is a man in Accra who operates a boutique and takes shoes from me. He has told me not to put a 'Made in Ghana' tag on the shoes when supplying to him. After taking delivery of them, he puts 'made in Italy' tags on them. With that, he is able to sell at GH¢400 the same shoes I sell in my shop for GH¢250," he said.
Another shoe manufacturer, Peter Anowie-CEO of Koliko Shoes, shared a similar experience.

"Someone walked into our shop and wanted to buy shoes. He was directed by a friend who bought a pair of our shoes. When I mentioned to him that all our shoes are made in Ghana, he told me that he wasn't buying any longer, as he thought the shoe he saw his friend wear was made in Europe," he said.

At best, those who buy would prefer to buy it at a price cheaper than the original price labelled on the product. But local manufacturers say they face a peculiar challenge that will not make it easy for made in Ghana products to go cheaply.

High cost of production

One thing that manufacturers say makes it highly unfair to compare prices of locally-produced goods to those imported into the country is the high cost of production.
In a country where virtually all raw materials for production are imported, coupled with high cost of utilities—electricity and water—and import taxes, the cost of production remains elevated.

Yet, local producers have to compete with products coming from countries which have a robust macroeconomic climate, easy and cheap access to finance, and low cost of production among other incentives from government.

"People feel made in Ghana products should be priced lower to encourage patronage. But they easily forget that our inflation is high, our electricity bills are high; we don't really have the capacity to produce in volumes to enjoy economies of scale, and raw materials are largely imported. So, the cost of making products here is high and customers must understand this and be willing to pay the right prices for them," Mr. Denzo said.

For the shoe manufacturers spoken to in this story, if the economic fundamentals are right, the cedi is stable against the dollar, utility bills are low, and raw materials are produced here rather than being imported, and capital is easily accessed as well as affordable, cost of production will come down and locally produced goods will be able to match imported ones in terms of pricing.

Quality assurance
With modern machines and adequate capital, foreign-made products may come out with a better finish than those produced locally – but local entrepreneurs say products made in Ghana are not inferior, hence indigenous consumers must believe in the 'Made in Ghana' brand and patronise it.

"It is about time as Ghanaians we sensitised ourselves that made in Ghana products are good. The more we patronise our products, the more producers too can scale-up and produce quality products to match the foreign ones imported into the country," the CEO of Koliko Shoes said.

Mindset change imminent!

Yes, it is true that years back products made in Ghana were sub-standard compared to those produced in foreign lands such as Europe and America. For the Ghanaian manufacturer, that era is gone.

They argue that local producers are now conscious of the fact they need to produce quality products to fight competition from foreign players. They are aware that to win the hearts of consumers, quality must come first. They know that for a mindset change to be successful, quality must not be compromised. And these, they believe, are what they are actually doing.
"Local entrepreneurs have upped their game. For some products, if the producer does not tell you they are locally made, consumers will never be able to make out the difference between them and imported ones,"Mr. Denzo noted.