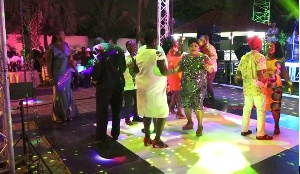 Wed, 17 Jan 2018 Source: Solomon Anderson
The management and senior staff of the Ghana Ports and Harbours Authority has also held it end of year dinner dance.
The event was attended by the Greater Accra Regional, Ishmael Ashitey, Deputy Minister of Transport and MP for East, Daniel Titus-Glover, Deputy Minister for Trade and Industry and MP for Tema West, Carlos Ahenkorah and MP for Tema Central Kofi Brako.

The chairman of the Senior Staff Union Association of GPHA, John Aseph pledged on behalf of the workers to provide a selfless service towards achieving a higher productivity in 2018 and the years to come.

"We want to give you the assurance that we would continue to give you the support to achieve much more than you achieved last year," he promised.

The Director of Tema Port, Edward Osei lauded the contributions of management and senior staff of GPHA for the year 2017 and solicited their support for 2018.

The Director General of GPHA, Paul Asare Ansah entreated management and staff of the Port authority to plug all revenue leakages and put a stop to all unethical practices so as to safeguard revenue to the state.
"If we would be able to make enough revenue to make all our obligations that is expected, then all of us must join hands to fight revenue leakages," he admonished.

He also assured that in 2018, the Port will be made more efficient for stakeholders and all those who operate in the port.

Paul Ansah said the level of the paperless implementation would be uplifted beyond importation as it pertains currently and the Port Authority would mount a heavy crackdown on persons who forge invoices of the Port Authority and other agencies.

"We are going to fight these fraudsters with all our strength to make sure that we stop it to redeem the integrity of the paperless project," the Director General averred.
Source: Solomon Anderson