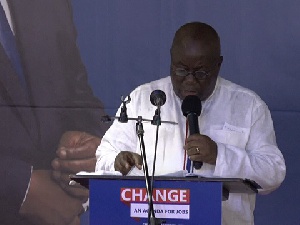 The phenomenon of stealing manifesto ideas is dangerous for Ghana's democracy and development, the flag bearer of the main opposition New Patriotic Party (NPP), Nana Akufo-Addo, has said in reference to claims by the NPP that the governing National Democratic Congress (NDC) has constantly been stealing ideas from the Elephant family's manifestos during election years.
Speaking at the launch of the party's 2016 manifesto at the International Trade Fair Centre in Accra, Mr Akufo-Addo said: "We of the NPP have always taken our manifestos seriously because we believe politics is a serious business and asking for the mandate of the people to govern is a serious business. Our manifesto also gives us the opportunity to reiterate our firm stand as a party of rule of law, a party of business, and a party that builds and creates wealth."

Recounting some examples to buttress the party's claim that the NDC has been stealing ideas from the NPP and infusing same into its manifesto for vote-winning purposes, the three-time flag bearer said: "When we drew up a manifesto that we titled: 'Transforming Lives, Transforming Ghana,' you would remember that some people simply wanted 'E dey be k?k?', and when they appropriated our title, they have been at a loss about what to do with it.
"On the one hand, it is possible to see the comic side of the manifesto-pilfering phenomenon and agree with the 'Great minds think alike' cry, but on the other hand, it is a dangerous practice for our country, for political parties simply to take on concepts and programmes which they do not believe in nor have thought through."

He continued: "The NDC did not believe in the NHIS, they demonstrated their level of disbelief by walking out of parliament when the NHIS bill came to parliament, and it was passed without their input, and came to operation in 2004. Proof that they did not believe in it and certainly did not understand it came in 2008 when the NDC campaigned on a hare-brained idea to change the NHIS to a one-time premium payment scheme. Is it any wonder that the NHIS has been in so much trouble since 2009 under the government of the NDC? Or let's take free SHS. The NDC made it clear that they did not believe in it, they did not like the idea, and they rubbished it at every least opportunity, it's not surprising, therefore, that they've been having such a hard time trying to run their watered-down version of free SHS. In other words, it helps to believe in something, to spend time and energy to think it through, and to get passionate and competent people leading the implementation of the programme. That is, the NPP's attitude and our approach to the business of governance. We are not looking for catchy or meaningless slogans because they will win votes, we have not put together a manifesto that sounds good but does not positively affect the lives of our country. You've heard all our speakers today state clearly that we are offering solutions to the problems that face our country; we are offering solutions that will take our country out of the crisis in which we find ourselves."