Tue, 17 Jul 2018 Source: Eye on Port
Bunkering operations refer to the storage of petroleum products in tanks, and the practice and business of refueling ships at sea ports.
Officially opening a conference for the 2018 Maritime Week Africa, organized by Petrospot and hosted by the leading oil marketing company in Ghana, GOIL, the Minister for Energy, Boakye Kyeremanteng Agyarko touted Ghana as a destination of choice for bunkering activities and widely considered around the world to be one of the best countries to conduct bunkering operations in West Africa.

"Ghana is open to investment and is reaching out for mutually beneficial and sustainable partnerships in the bunkering industry. Ghana remains a very attractive country to do business and this is due to its favorable democratic political climate, strong and reliable legal and regulatory institutions, as well as a robust financial system," he touted.

Government, according to him is set to create an offshore Bunkering zone to aid liquid cargo business as a means of refueling and maintenance for vessels.

He said the designated ship to ship and Bunkering zone is to be created outside the Tema and Takoradi ports.

"These bunker zones, that will include both anchor and drifting zones, will ensure a drastic reduction in the risk of piracy during offshore bunkering operations, improve maritime security, enhance collection of tariffs, and curb illegal fuel smuggling, adulteration of fuel and unscrupulous blending of fuel."
The port expansion projects at Takoradi and Tema, he noted will further ensure that the needs of bigger vessels operating in the oil and maritime business are better served.

Benjamin Torkonoo, Head of Operations of GOIL said the company is doing all it can to take advantage of the several opportunities in the upstream, midstream and downstream petroleum industry.

"Ghana is an emerging oil and gas producer. The industry is expanding with more and more field developments, opportunities abound, next five years we see more developments in the increased production of oil and gas," he stated.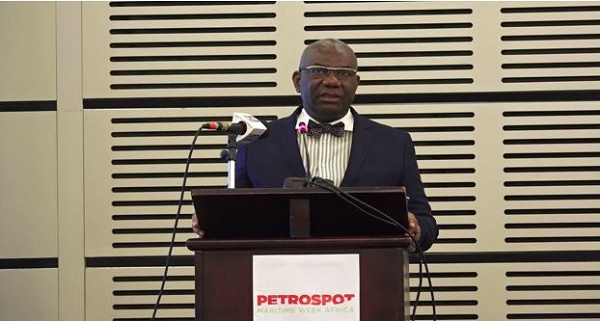 Mr. Boakye Kyeremateng Agyarko, Minster of Energy
Director of Pricing, Planning and Research, at the National Petroleum Authority, Alpha Welbeck stressed the challenges, guidelines and the way forward for Regulating the Bunkering Industry in Ghana.

"Another key point that we are looking at is the collaboration with the state agencies; the Ghana Maritime Authority, Ghana Navy and Ghana Ports and Harbours Authority," she informed.

The Managing Director of Petrospot Limited, Llewellyn Bankes-Hughes said that the session was to look at developments in Ghana's oil and gas sector and ways in which this is driving trading activities between Ghana, its neighbours and the wider world.




The Maritime Week Africa is the only international bunkering event focused entirely on Africa. This year's program focuses on what Africa is doing to prepare for the 2020 global 0.5% Sulphur cap. The conference also examined the options for African refiners and suppliers and how to engage in effective bunkering operations.
Source: Eye on Port