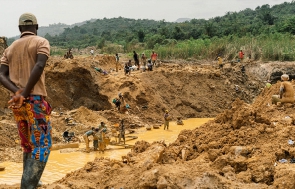 Wed, 26 Apr 2023 Source: Bloomberg
Ghana's economy grew more than forecast in the last quarter of 2022, even as the nation dealt with inflation well above 40%, a debt-payment moratorium and rising interest rates.
Gross domestic product expanded 3.7% from a year earlier in the three months through December, compared with upwardly revised growth of 3.1% in the previous quarter, government statistician Samuel Kobina Annim told reporters Wednesday in the capital, Accra.

The median of four economists' estimates in a Bloomberg survey was for growth of 2.6%. The cedi extended gains, strengthening 0.5% to 11.7565 per dollar by 11:59 a.m. in Accra, while the yield on Ghana's $1 billion of eurobonds due 2026 fell marginally to 50.9%.

The main drivers of the economic growth were mining and quarrying, which grew 13.4% in the quarter from a year earlier, information and communications and agriculture, Annim said.

Industries Driving Ghana's Fourth Quarter Economic Growth

Economic growth slowed to 3.1% in 2022, from a revised 5.1% a year earlier, Ghana Statistical Service data showed. That undershot a Finance Ministry estimate of 3.7% and International Monetary Fund's 3.2%.

Ghana is working to restructure most of its public liabilities, estimated at 576 billion cedis ($49 billion) at the end of November, to cut its debt from an estimated 105% of GDP in 2022 to 55% by 2028. This will enable the country to secure a $3 billion rescue package from the IMF, even as it undertakes belt-tightening measures set to weigh on economic growth this year.
Economists in a separate Bloomberg survey predict a 2.4% expansion in GDP in the three months through March, and 2.9% in 2023.

Watch the latest edition of BizTech and Biz Headlines below:






Source: Bloomberg