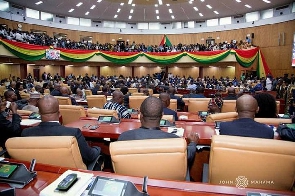 The Minority in Parliament has registered their disappointment at the President's refusal to reduce the size of government at a time the country's economy has dwindled.
The caucus at a press conference this morning called for the immediate reduction in the number of ministers from the current 86 to 65, as well as the merging of some ministries.

"Ghanaians had hoped that the seriousness of the economic situation would finally prompt a reduction in the size of government and that President Akufo-Addo will see the wisdom in getting rid of the deadwood in his government who have nothing to offer our country.

"In unison, Ghanaians have called for a reduction in the size of government, which is a major guzzler of public funds," Minority Leader Cassiel Ato Forson said.

He added that: "Regrettably, the Akufo-Addo/Bawumia government has carried on as usual, as though there is nothing at stake and continues to add to the plight of the people with reckless abandon.

"In the circumstances, while this insensitive government is refusing to act responsibly to contain the looming economic disaster, we in the Minority will faithfully discharge our duty to Ghanaians."

The group also demanded a reduction in the number of political appointees at the Office of the President and the scrapping of all amorphous creations and waste-pipe appointments since the assumption of office of the President in 2017.
"The work of those undefined, amorphous creations must revert to established entities in the civil and public service that perform similar, if not the same functions," the minority said.

President Nana Addo Dankwa Akufo-Addo, on 7th February 2023, submitted to Parliament, seven names to be vetted and approved as ministers and deputy ministers.

They include Kobina Tahiru Hammond, Member of Parliament for Adansi Asokwa Constituency, as Minister for Trade and Industry; Dr. Stephen Amoah – Deputy Minister for Trade and Industry; and Bryan Acheampong as Minister for Food and Agriculture.

The rest are Stephen Asamoah Boateng – Minister for Chieftaincy and Religious Affairs; Mohammed Anim Adam – Minister of State in the Finance ministry; Osei Bonsu Amoah – Minister for Local Government and: Herbert Krapah – Deputy Minister for Energy.

The Appointment Committee in Parliament has today February 20, begun vetting the nominees.