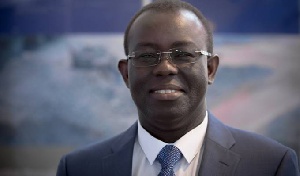 The President of the General Assembly of the ECOWAS Federation of Chambers of Mines (EEDCOM), Kwame Addo-Kufuor has warned of what he describes as the eroding trust between governments and mining companies.
Mr. Addo-Kufuor believes this lack of trust is a result of some prejudices.

In a statement from the Chamber, its Immediate Past President said the mistrust "only goes to ultimately hamper the relationship between the two parties and adversely affect productivity on the part of mine operators and the value it offers the state."

Mr. Addo-Kufuor was speaking at the 4th meeting of the Executive Council and General Assembly of the EFEDCOM in Guinea.

The meeting, which brought together members of the federation discussed ways to improve collaboration between their respective countries.

The 4th General Assembly was attended by representatives from Ghana, Mali, Guinea, Burkina Faso and Cote d'Ivoire. The EFEDCOM was established in 2016 to bring together the Chambers of Mines and Mining associations in countries within the ECOWAS sub-region to advocate for policies to promote investment in responsible mining.
Addressing the assembly, Mr. Addo-Kufuor indicated that while mining companies are minded to operate responsibly, they require effective collaboration with governments to deepen transparency.

He was of the view that countries must work together to create an enabling environment for investments into the sector.

Mr. Addo-Kufuor thus urged the various Chambers and Mining Associations to work together and also share lessons on various aspects of mining.

The Special Guest of Honour, Abdoulaye Magassouba, Guinean Minister for Mines and Geology stated that the mining sector is undergoing policy reforms in Guinea, adding that the government is going through the processes in collaboration with the Guinea Chamber of Mines.

He assured mining companies operating in the country of the Guinean government's commitment to developing a robust mining sector to stimulate foreign direct investments.