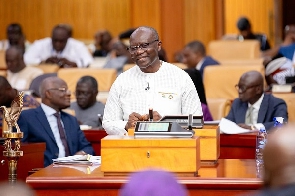 The government aims to make sure prices stay stable in 2024 through its monetary policy with inflation expected to stay within the International Monetary Fund's target of 29.4%, with a range of 4.0% by the end of 2023 and a goal of 15% in 2024.
In October this year, Ghana's inflation went down to 35.2% from the previous month's 38.1%, showing progress of a decline.

Finance Minister Ken Ofori-Atta said this while presenting the 2024 Budget and Government's Fiscal Policy to Parliament on Wednesday November 15, 2023.

He mentioned that government expects inflation to keep going down to the target range of 8±2% by the end of December 2025.

This, he explained will be hinged on a strict monetary policy, stable foreign exchange rates, and a good harvest, which should help balance out inflationary pressures in the short term.

"A tight monetary policy stance, favourable base drifts, relative stability on the foreign exchange market, and a favourable food harvest are expected to outweigh inflationary pressures over the

near-term," he said.
To tackle inflation, the Bank of Ghana has maintained a strict monetary policy, raising the policy rate by a total of 300 basis points to 30% by September 2023.

Looking at the external sector, Ofori-Atta said its performance depends on negotiations with the country's external creditors.

The Bank of Ghana's focus is on building up external reserves in a sustainable way.

Meanwhile, Ghana's exchange rate regime is expected to stay steady, supported by progress with the IMF-Supported Programme, money from the cocoa syndication loan, the second tranche of the IMF loan, mining revenues, and the Bank of Ghana's continuation of the Gold-for-Oil Programme.

However, the finance minister acknowledged that there are risks, including growing uncertainty about geopolitical tensions and fluctuations in commodity prices.

ID/MA


Ghana's leading digital news platform, GhanaWeb, in conjunction with the Korle-Bu Teaching Hospital, is embarking on an aggressive campaign which is geared towards ensuring that parliament passes comprehensive legislation to guide organ harvesting, organ donation, and organ transplantation in the country.

You can also watch the newest episode of Nkommo Wo Ho on GhanaWeb TV below: