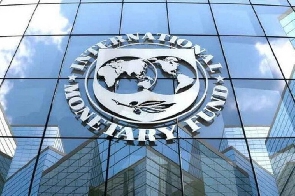 Ghana's international reserves is projected to end 2023 at approximately three weeks of import cover (0.8 months), representing an almost depleted national reserve.
This is according to the 2023 International Monetary Fund Regional Economic Outlook Report for Sub-Saharan Africa.

The projection by the Fund is however contrast to the Central Bank's Summary of Economic and Financial Data, which estimated Ghana's foreign reserves to about 2.7 months of import cover in 2023.

But the IMF in its report, indicated that Ghana's foreign reserves were pegged a little above two weeks (0.6 months) of import cover in 2022.

This development could mean that should foreign inflows cease, it could spell significant doom and more suffering in the Ghanaian economy due to limited dollars in the reserves which is critical for balance of payment transactions.

In order to avert this consequence, Ghana has to urgently secure an IMF deal for a $3 billion loan facility.
The IMF in its report however projected that Ghana's international reserve will increase to about 1.7 months of import cover in 2024.

For other countries in Sub-Saharan Africa with lower import cover than Ghana, Zimbabwe was pegged at (0.2 months), South Sudan (0.5 months), and Ethiopia (0.6 months).

Meanwhile, the BoG earlier in March this year said the country's net international reserves had slightly improved to $2.62 billion, representing about 2.8 months of import cover in February 2023, up from $2.24 billion in December 2022, which was about 2.7 months of import cover.

But Ghana's Balance of Payment position remains in a deficit of $3.63 billion, which is equivalent to approximately 5 percent of the Gross Domestic Product by the end of February 2023.

Watch the latest edition of BizTech and Biz Headlines below:






MA/FNOQ