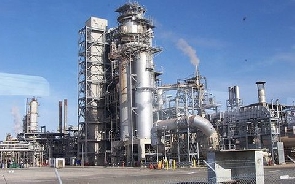 Tema Oil Refinery (TOR) has not been operational since June 2018 due to lack of crude oil which serves as a raw material for the refinery.
Aside from the inadequate crude oil in the country's only oil refinery, TOR is faced with other challenges like broken equipment, piled debt, among others.

Management of TOR in April 2022 sought approval from the Energy Ministry to engage the private sector players to revamp the oil refinery.

It is for this reason that the Executive Director of the Institute for Energy Security (IES), Nana Amoasi VII, has called on government to as a matter of urgency move the oil refinery away from all political cycles.

He stressed that the activities of politicians at the Tema Oil Refinery need to end abruptly.

Speaking on Citi TV's The Big Issue programme on Saturday, February 4, 2023, Nana Amoasi VII reiterated calls for the privatization of TOR to revive the dying oil refinery.

"You go to TOR and you can have seven people sitting on a desk doing nothing. That is why we need to move TOR away from the political cycle and the politicians. Let us introduce some private hands that have the capacity to introduce some funding for the revamp of TOR and its operations," the Executive Director of the Institute for Energy Security said.
It would be recalled that the Institute for Energy Policies and Research (INSTEPR) late last year noted that about $500 million was needed to revamp the Tema Oil Refinery.

INSTEPR wondered why government, the majority shareholder of the oil refinery, has stayed mute on how to get the refinery working to produce oil to cushion Ghanaians amidst the hike in petroleum products - petrol - diesel - LPG at various pumps.

In a release sighted by GhanaWeb, the policy think tank asserted that the Finance Ministry, per report was cash-strapped hence, its inability to pump money into the almost dead refinery.

But the Deputy Energy Minister, Andrew Egyapa Mercer, said he was optimistic the oil refinery will soon commence operations.

ESA