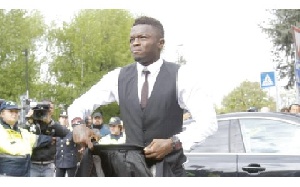 Fri, 5 Jun 2015 Source: kelvin kenneth
Sulley Ali Muntari, the Ghanaian professional footballer who is currently playing for AC Milan in the Italian Serie A league has added style and luxury to the automobile industry with his 4FKMotorsport "Luxury Garage" which was founded in November, 2012. 4FKMotorsport has customised cars owned by top footballers in the likes of Argentine professional footballer Ricardo Álvarez, Ghanaian professional footballer Kwadwo Asamoah and many more.
The Ghanaian star player Muntari has finally decide to launch one in Ghana any time soon but he didn't disclose the specific date to launch but according to C armudi.com.gh that are still investigating when and were it will place also will let Ghanaians know. "I really want to help my people with the talent God has giving me" according to muntari. From a reliable source it been confirm the garage is going to be in east legon but he didn't disclose exact place but Carmudi.com.gh still on the follow on the story.

Last year it was a rumor about the same subject but we some samples of the customized cars were made and he posted them on Instagram but the mind was not made up to open a branch in Ghana. Since its now confirmed by the type of Carmudi.com.gh for great investigation.
Check out the best customized cars by 4FKMotorsport that Carmudi considers to be extraordinary.
Source: kelvin kenneth