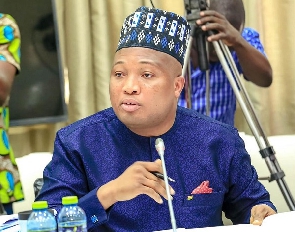 The Member of Parliament for North Tongu, Samuel Okudzeto Ablakwa, has stated that since March 2022, the National Cathedral project has stalled for 10 months since March 2022.
According to the vociferous legislator, this was due to the government's refusal to settle contractors.

He also added that the contractors have been shocked by the amount of money that the government has expended in the name of the National Cathedral.

Speaking on Citi TV, he said "Since the 14th of March 2022, 10 months after now the contractors have abandoned the project. I have a copy of all the termination letters they served all their workers. They said the government had not been paying them. I have insiders in those companies and they are shocked at the massive figures flying around. And you don't see the project being executed."

Okudzeto, however, added that per the figures presented by the finance minister to parliament, about US$58 million have been spent on the National Cathedral.

Meanwhile, the Executive Director of the project, Dr. Paul Opoku-Mensah, on Tuesday, August 30, 2022, confirmed the suspension of work despite the continued presence of contractors and their staff on site.

"We have the contractors and their staff on site, but the work has been suspended. We are hoping that within the next couple of weeks, as part of our fundraising and other initiatives, we can begin work again," he told a delegation that had come to donate towards the project.
He added thus: "our ability to complete this work keenly depends on Ghanaians supporting it."

He rallied the Christian faithful to ramp up their support for the project, stressing that it was the surest way to raise needed funds to complete the project.

"The money might be big in terms of volume but if indeed we have 21 million Christians and a million can give us GH₵100 a month for a year, we can easily complete this in time.

"I refuse to believe that we can't get a million Ghanaians out of the 21 million Christians to support this. I still have faith in the Ghanaian and I am confident that we will do this," he added.

SSD/FNOQ