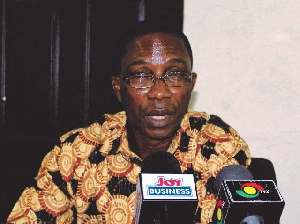 A two-day national conference on artisanal and small-scale gold and salt mining opened in Accra on Tuesday with a call on government to attach the same priority to operators in the sector as it does to the big mining companies.
Dr Yao Graham, the Coordinator of the TWN-Africa, who made the call, said while there was a general understanding of the importance of artisanal and small-scale mining to the country's socio-economic development, government's action was contrary to such policies.

He said the many militarised operations within the artisanal and small-scale mining sector showed the lack of commitment and government's mishandling of the challenges in the sector.

Organised by Third World Network-Africa (TWN- Africa) with support from STAR-Ghana, the conference is being held on May 14 and 15, and brought together ASM gold and salt producers, relevant policy makers, CSOs working on mining issues and the media.

It is a culmination of a series of four regional forums and a media encounter held across the country last year by TWN-Africa, in the heat

of the government's ban on small scale mining and the anti-galamsey (illegal gold mining) security operation tagged 'Operation Vanguard'.
The conference will place a spotlight on the role and place of artisanal gold and salt mining, looking at the policies that govern the sector and the practices in and challenges facing ASM producers in the two sub sectors.

It aims at contributing to policies and practices that strengthen and improve the role of ASM gold and salt production in Ghana's economy and society.

On salt mining, Dr Graham said it was important government paid attention to the sector as it was a big avenue for job creation and development at the local and national levels.

He said there was the need to take a second look at giving the sector to foreign investors as it would not augur well for development.

Dr Graham expressed the hope that the meeting would help bring out policies that work for the interest of operators in artisanal and small-scale mining sector.