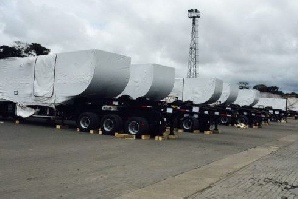 Ghanaians should ignore the figures being thrown about regarding the new AMERI deal, Mireku Duker, Tarkwa-Nsuaem MP has said.
According to the Deputy Chair of the Mines and Energy Committee of Parliament, the committee is still looking into the new deal and yet to finish its report on the matter to be submitted to the plenary for discussion.

Mr Duker stressed that no final figure has been put on the deal.

The Akufo-Addo administration has taken steps to amend portions of the controversial $510 million deal signed by the John Mahama administration.

As part of the move, parliament has deferred to the next sitting, approval of the new deal.

According to Majority Leader Osei Kyei-Mensah-Bonsu, the House needs to "interrogate the figures to know that what we are doing is in the best interest of the country, which explains why [the debate on the deal has been delayed]."
"I spoke to the Finance Minister, I spoke to the Attorney General plus the Minister of Energy and we all decided to tarry a while and have a closer look at it," the Minister of Parliamentary Affairs said.

The government, on Wednesday, 25 July, laid a paper before parliament for the amendment process to start.

It was referred to the Joint Committee on Finance and Mines and Energy for consideration and report by the First Deputy Speaker Joseph Osei-Owusu.

However, the Minority in Parliament has raised issues over value-for-money.

Bongo MP and member of the Mines and Energy Committee, Edward Bawa, told Chief Jerry Forson on Ghana Yensom on Accra 100.5FM on Monday, 30 July that: "This government sent arms-wielding police officers to the homes of the former Power Minister and other past government officials following the AMERI deal, and, as of now, their families are still traumatised.
"Following their action, one would have thought that they will provide a better option for Ghanaians in the new deal but that is not the case."

Reacting to Mr Bawa's comments on the same show, Mr Duker said: "The Committee's aim is to ensure value-for-money. We are not done with the work yet and until we are done with the report and submit it to the plenary, we cannot be talking about 'no due diligence' in the new deal.

"The Committee is fine-tuning the new agreement, and, so, I want the public to disregard the figures".