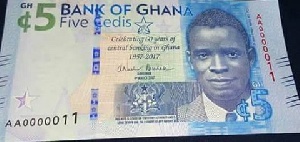 The Bank of Ghana's new commemorative GHS5 cedi note will go into circulation across the country today, Tuesday 7 March, 2017.
Last week the central bank unveiled the bill to celebrate its 60th anniversary, which coincides with the country's 60th Independence anniversary.

The note, which comes with a new pulsating shine when tilted, has already been distributed across the country.
The bill has late Gold Coast educationist and missionary Dr James Kwegyir Aggrey's picture embossed on it. It also has tactile marks to help the visually impaired along with an intaglio portrait.

The new commemorative GHS5 note is legal tender to be spent alongside the old note.