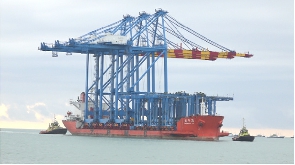 Mon, 18 Sep 2023 Source: Eye on Port
Meridian Port Services (MPS) has taken delivery of three ship-to-shore (STS) and 12 rubber-tyre gantry (RTGs) cranes at Terminal 3 in the Port of Tema, as part of phase 2 of the port's expansion project.
The arrival of the cranes is expected to solidify Tema Port's status as the premier commercial container hub in West Africa while positioning the Port to support increasing continental trade.

The acquisition of these gantry cranes, procured from China's ZPMC represents an additional investment of over $50 million in Ghana's maritime sector.

The high-tech STS cranes, classified as Super-Post Panamax, have the capability to service the world's largest vessels, featuring an impressive outreach of 66 meters and the ability to handle containers up to the 23rd row of vessels.

These cranes also offer the unique ability to stack containers over 10 units high on deck, equipped with twin-lift spreaders capable of handling loads of up to 65 tons.

The Head of Legal and Compliance at MPS, Frank Ebow Brown said this investment is a testament to the commitment of MPS to fostering economic growth.
"This is just one of the events that we are witnessing but, behind the scenes, management will also have to strategize to make sure that the volumes continue to come in.

You have been asking about West African Trade, we want to position Tema Port as a hub, and in positioning Tema Port as a hub, we need to work with the shipping lines and we need to attract trade, both gateway cargo, transit cargo and trans-shipment cargo. So, the work has just begun," he said.

The Harbour Master at the Port of Tema, Capt. Micah, whose outfit supervised the safe berthing of the vessel says such moves are geared towards improving the port's capacity in tandem with growing demand.

"So, the Port of Tema is continually moving upwards and trying to make sure that we are functioning as a port that can handle all types of cargo and all types of vessels, irrespective of their size," he said.
Source: Eye on Port