Wed, 6 Feb 2019
Source:
3 News
Newmont Africa's Vice President in charge of Sustainability and External Relations Adiki Ofeibea Ayitevie at has been adjudged the PR Personality of the year 2017.
Other individual winners on the night were Clarence Amoatey, General Manager of Touchpoint Magna Carta and Yaa Asamoah Boateng as Discovery and Internal communicator respectively.

The 7th National PR and Communications Excellence awards, which took place at the La Palm Royal Beach Hotel, saw the assemblage of the high and mighty in PR practice.

Speaking under the theme 'Delivering Value form Values: A test for Corporate Governance', Information Minister Kojo Oppong Nkrumah, himself a member of the Institute, noted engagements are underway to pass a law to regulate PR practice in Ghana.

He noted "all over the world, professions are working towards greater legislations to ensure practitioners observe the tenets of their discipline".

In light of this, the Ministry of Information has started an engagement process on the possibility of passing a law to accredit public relations practitioners to facilitate the practice of PR profession in the country.

"We have started a process of engagement on the possibility of passing a law to accredit practitioners and facilitate the practice of the profession in Ghana."
The Minister called on the Institute to join forces with other stakeholders to combat the creeping phenomena of opinion journalism, which he believes, is threatening the public sphere by elevating the level of discourses to stick with the facts and not opinions.

President of the IPR Elaine Sam said values permeated every aspect of human endeavour so much that if well harnessed and upheld could avert or effectively manage most of societal problems.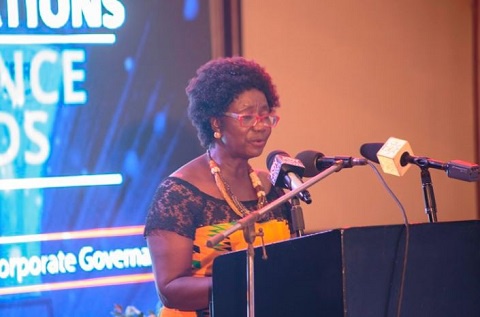 She quipped: "However, how are we safeguarding our values in the face of rapid societal transformations? We can only answer such a complex question by ensuring an open and continuous discussion on the issues."

Special Guest of Honour and keynote speaker Nana Otuo Siribuo II, who is also Chairman of the Council of State, used the opportunity to implore practitioners and Ghanaians to adhere to the Ghanaian value systems as it has the key to ensure professionalism in every field of life.

A former Minister of Information, Kojo Yankah, who is the chairperson of the adjudicating panel, noted that there are going to be reforms regarding the awards with the introduction of some new categories for 2018.
List of the award winners:

PR Campaign of the year - Ogilvy

Best in house team of the year – Vodafone Ghana

Best in Crises and Issues Communication – Stanbic Bank

PR Educational Institution of the year – Ghana Institute of Journalism

PR Organization of the year – Financial – Stanbic Bank


PR Organization of the year – Telcos – Vodafone

PR Organization of the year – Extractive – Newmont

Best Content – Newmont

Best Promotional Event – Vodafone Ghana

Best in Technology – Electricity Company of Ghana
Best in Social Media Communication – Ogilvy

Best Community Relations – Ogilvy

PR Consultancy of the year – Touchpoint Magna Carta

Best in Non Profit communication – Compassion International Ghana