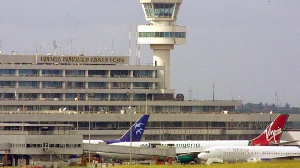 Wed, 15 Mar 2023 Source: Bloomberg
Nigeria is blocking foreign airlines from repatriating at least $744 million as its central bank rations dollars, Lagos-based Punch newspaper reported, citing a letter written by International Air Transport Association.
"For over a year, Nigeria has been the country with the highest amount of airline-blocked funds in the world," IATA said in a letter to the Minister of Aviation Hadi Sirika, according to the newspaper. The amount owed has risen from $464 million in July last year.

Foreign airlines have cut the number of seats available for sale in Nigeria and frequency of flights in a bid to slow the rising debt burden, IATA said.
The central bank in Africa's biggest economy rations dollars to preserve its foreign exchange reserves, which have come under pressure from slumping oil production. Foreign airlines sell tickets in local currency, but are unable to get the dollar equivalent through the central bank.

Emirates Airlines halted flights to Nigeria last August due to challenges in repatriating funds.
Source: Bloomberg