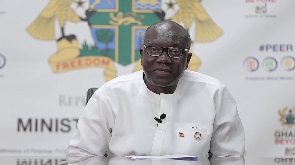 Sun, 23 Apr 2023 Source: GNA
Organised Labour has reiterated that it will fiercely resist any attempt by the Government to include pension funds in a second phase of the Domestic Debt Exchange (DDE) programme.
This follows reports predicting the Government's intention to rope in pension funds in a possible second domestic debt exchange programme as it seeks a $3 billion debt relief package from the International Monetary Fund.

Organised Labour, in a statement jointly signed by Dr. Anthony Yaw Baah, Secretary General, Trades Union Congress, Ghana, Dr. Isaac Bampoe Addo, Chairman, the Forum and Mr. Abraham Koomson, Secretary General, Ghana Federation of Labour, in Accra, on Thursday, said it had become aware of a letter dated April 7, 2023, inviting the Board of Trustees of Pension Funds to participate in a new G0G Proposed Alternative Offer for Pension Funds.

"We have scrutinised this letter and other accompanying documentations and have come to a firm conclusion that they amount to roping pension funds back into the DDE programme.

"This request undermines the spirit and letter of the MOU signed between Government and Organised Labour," it said.

Government and the leadership of Organised Labour on Thursday, December 22, 2022, signed a Memorandum of Understanding (MOU) to "grant exemption to all pension funds in the Domestic Debt Exchange Programme (DDEP)."
The Government was represented by Mr Ken Ofori-Atta,Minister of Finance and Mr Ignatius Baffour Awuah, Employment and Labour Relations Minister, while Organised Labour was represented by Dr. Anthony Yaw Baah, Secretary General of the Trades Union Congress.

On Wednesday, February 1, 2023, in a press release, Organised Labour underlined its position that the exemption of pension funds in the DDE was final, warning that any attempt to go contrary to this agreement would be "fiercely resisted".

The statement said: "We, therefore, urge the Board of Trustees of all Pension Funds not to honour the invitation to participate in the so-called alternative offer for pension funds.

"Any attempt by Government or the Board of Trustees of Pension Schemes to undermine the MOU will be fiercely resisted by Organised Labour."

The statement also urged all Organised Labour groups to close ranks and abide by the tenets of the MOU we have signed with Government.
Source: GNA