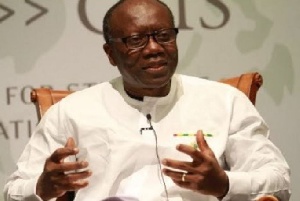 The Minister of Finance, Mr. Ken Ofori-Atta, has charged the Ghana Revenue Authority (GRA) to take steps to recover all outstanding tax liabilities and tax debts owed government by businesses and taxpayers before close of the year.
A statement issued by the Office of the Commissioner General of GRA and copied to the B&FT charged the GRA Board to take steps to directly partner management of the Authority to recover outstanding tax liabilities/tax debts owed GRA by businesses and taxpayers before close of the year.

"At a meeting of the GRA Board on Wednesday 12th December 2018, the Board accordingly resolved that beginning Thursday 13th December 2018, they will partner the staff of GRA to visit businesses which have outstanding tax liabilities to retrieve such liabilities. The management of GRA requests the cooperation and understanding of the public," the statement said.

The GRA this year warned strongly that it will intensify its prosecutorial powers on businesses and persons who default in the payment of taxes after the expiration of a tax amnesty period this year.
The authority has been charged by government to collect GH¢39billion as revenue for the 2018 operational year.

According to the Authority, a tax audit has revealed that taxpaying companies are constantly defaulting their payment obligation – and this is a serious offence against the tax laws.

The Authority therefore cautioned recalcitrant taxpayers to urgently settle all tax obligations, as not doing so is an infringement of the country's tax laws.