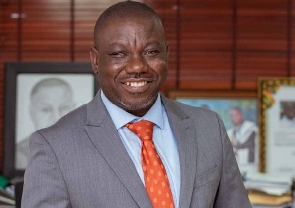 The Member of Parliament for the Bolgatanga Central, Isaac Adongo, has stated that the deal approved by the International Monetary Fund was not properly designed by Ghana's authorities.
He accused the finance minister, Ken Ofori-Atta of simply perambulating the corridors of the IMF and the Paris Club without presenting a good enough deal to the Fund.

Adongo referenced the country report released by the IMF after the board's approval for the $3 billion loan facility, adding that it shows that it was the IMF who designed Ghana's progamme.

"When you read the IMF release, you will know that this programme was poorly negotiated. The finance minister was roaming the corridors of the IMF and the corridors of the Paris Club just to get this programme through.

"You cannot tell anybody what was the government programme and what was on the table, there was nothing like that, and so we ended up with IMF designing a programme and giving it to us because we just didn't have any direction and the issues that have been raised in that document are so daring that I tend to say that we are in a very, very difficult situation," he was quoted by citinewsroom.com to have said.
Adongo also expressed his disappointment with Ghana's breach of the thresholds of the debt sustainability analysis conducted by the IMF as a pre-requisite for the approval of the programme.

"This is the first time we have been to the IMF basically not being compliant with the debt sustainability situation of the IMF and the IMF's own report in the early paragraph makes it very clear that COVID-19 took advantage of pre-existing vulnerabilities of the economy and that it wasn't COVID-19 that was the problem but just that at the time COVID-19 came, we were suffering from heightened fiscal and external vulnerabilities and these were matters we had raised for a very long time and they [government] didn't work with them until COVID-19 came and took advantage of these vulnerabilities," Isaac Adongo added.

SSD/MA