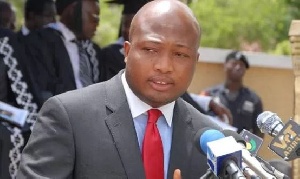 Member of Parliament for North Tongu Constituency Samuel Okudzeto Ablakwa has filed a complaint with United State of America's Securities and Exchange Commission (SEC) over the $2.25 billion bond recently issued by the government of Ghana.
Mr Ablakwa filed the complaint on behalf of the Minority in Parliament in his capacity as the Ranking Member on the Foreign Affairs Committee.

The Minority had raised issues with the manner in which one company bought a majority of the bonds issued.

Franklin Templeton purchased 95 per cent of the 15-year and 7-year bonds. The crux of the Minority's concern was that Trevor Trefgarne, a Director at Franklin Templeton, is also a board chairman of Enterprise Group, which is owned by Minister of Finance Ken Ofori-Atta.

"The SEC will primarily be investigating suspected conflict of interest and insider trading which are violations of US law," a release from the Minority on Tuesday, May 16 stated.
"The Minority's complaint was filed with the Enforcement Division of the SEC in Washington DC on 1st May, 2017."

The Commission is said to have thanked the National Democratic Congress (NDC) for the gesture and issued it with a reference number.

CHRAJ complaint The Minority also observed that the Commission on Human Rights and Administrative Justice (CHRAJ) has also begun investigations and hopes that of SEC in the US will not conflict with Ghana's.

"The Minority takes this opportunity to re-emphasize our commitment and cooperation in assisting with both investigations in any way we can in the supreme national interests of Ghana and the United States of America."