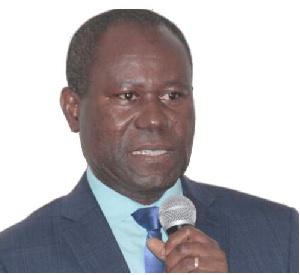 The Chief Executive Officer (CEO) for the Ghana Cocoa Board (COCOBOD), Joseph Boahen Aidoo has accused the former John Mahama led administration of depleting the syndicated loan facility.
Addressing the press in response to the Minority's statement on cocoa, the former Amenfi East MP said the NDC when in office secured a total of US$1.8billion for the 2016/2017 cocoa purchases which was projected at 850, 000 metric tonnes.

According to him, as at January 2017, the amount had been fully withdrawn and utilized ''when only 587,000 metric tonnes of cocoa had been purchased.

He said, ''the mystery surrounding the exhaustion of the US$1.8 billion is being investigated and full facts will be made known to Ghanaians in due course.''

He revealed, ''peculiar to the loan utilization is the last draw down of US$400,000 effected on 20th December, 2016 at the time the NDC had woefully lost the December 2016 elections.''

He expressed shock at how the NDC managed to withdraw the amount of money between December 2016 and January 2017 before the new administration was sworn into office.
The NPP after taking over office was also saddled with a debt of GHc19.6 billion, he said.

He also accused the previous NDC government of abusing the export duty and used export duty payments from COCOBOD to siphon funds for activities not related to cocoa.

He gave an example of the payment of US$25 million top Construction Pioneers (CP) in January 2016 to settle judgment debt awarded against Government of Ghana in the UK.

He explained, without this payment, Ghana was to lose a property worth about US$1.2 million in the UK as a result of reckless handling of debts owed CP.

''This amount was taken from COCOBOD in the name of exercise duty (in the word of the former Deputy Finance Minister-a Board member of COCOBOD Casel Ato Forson) The payment under the export duty was to make it appear legitimate,'' he added.