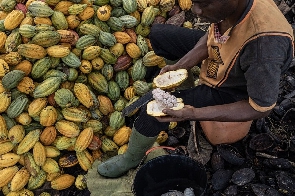 Over 1,000 cocoa farmers in Hwidiem, Ahafo Region, have expressed their frustration at an agricultural company called Touton-Eliho Ghana Limited over unpaid bonuses. They are hence asking the government to intervene in the matter.
Leader of the group, Sampson Awal Mohammed, speaking at a press conference in Hwidiem, told Adom News that the company owes them bonuses totaling GH₵470,000.00 or GH₵4.7 billion, as per their agreement, but hasn't paid. This lack of payment, the group claims, is causing problems for their lives and cocoa farms.

"COBOBOD and other trusted organizations told us to sell our cocoa to this company because it's reliable and follows the law. We don't understand why they haven't paid us our deserved bonuses for years, which would make our lives and farms better," he said.

Nana Yaw Marfo, another cocoa farmer, warned that if they don't get their bonuses within a week, they will take the company to court.

Adom News Reporter, Sammy Asare, spoke with the company managers who admitted owing the farmers but said they would share their side of the story in due time.
ID/EK



Ghana's leading digital news platform, GhanaWeb, in conjunction with the Korle-Bu Teaching Hospital, is embarking on an aggressive campaign which is geared towards ensuring that parliament passes comprehensive legislation to guide organ harvesting, organ donation, and organ transplantation in the country.