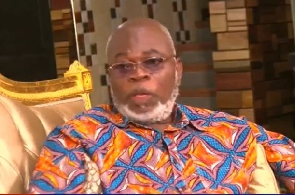 Tue, 23 May 2023 Source: GNA
The Chairman of the Public Account Committee of Parliament, Dr James Klutse Avedzi, has urged public institutions to work in accordance with the Public Procurement Laws and the Financial Management Acts to avoid violating laws that can result in sanctions.
He also charged institutions to provide auditors with the relevant documents and information for them to conduct the necessary verification before the hearing of the committee, saying, "next time we will only find out whether payments have been made or not, whether relevant documents have been provided."

Dr Klutse gave the advice during public hearing in Takoradi to consider the Zone four, 2020 Auditor -General's Report for the Central and Western Regions

The Chairman explained that institutions were supposed to give the needed documents to the auditors during the audit period and if that was not done, they could provide same within 30 days after the audit period, which he noted was enough time for anyone to provide the needed documents.

The committee would discuss the 2020 Auditor General Report on Pre-University educational institutions, Technical Universities, District Assemblies internally generated funds and the Management and Utilization of District Assemblies Common Fund for the Financial year ended 31, December 2020.

All the 14 Metropolitan, Municipality, District Assemblies (MMDAs) from the Western region who appeared before the committee, cited in their report, abandoned and delayed projects, unaccounted imprest, payments without supporting documents, unrecovered overdue staff advances, tax irregularities, unjustified payment of contingency and unbudgeted expenses on projects among others.
Apart from the Sekondi-Takoradi Metropolitan Assembly Coordinating Director, Finance Officer and Revenue Superintendent who were asked to refund an amount of GHS 24,878 out of GHS27,388 cited in the report as uncollected revenue from franchised public toilets in the Sekondi sub metro area the others MMDAs were able to defend their cases.

When the two Technical Universities took their turn, the Committee chair commended them for making surplus in their internally generated funds during the COVID-19 period and wanted to know the secret behind the feat.

The Vice Chancellor of Takoradi Technical University (TTU), Reverend Professor John Frank Eshun, explained that at the time, the University intensified its student enrolment drive, which recorded high numbers of enrolments and that fees were duly paid, hence the feat.

The committee Chairman urged auditors to ensure that TTU worked on its records management system by putting in the necessary controls.

The committee would sit for three days for the Zone four hearing.
Source: GNA