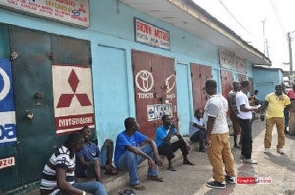 The leadership of the Nigerian Traders Association in Ghana has accused the leadership of GUTA of pursuing Nigerian traders in market centres for political gains.
According to the leader of the Nigerian traders in Ghana, Chief Emeka Nnaji, some members of the Ghana Union of Traders Association (GUTA) are seeking political office in the ensuing year and so need to announce their presence.

Nearly 600 Nigerians shops were locked up by angry members of GUTA on Monday over claims the Nigerians are violating local laws. They argue Ghanaian laws do not allow foreigners to engage in retailing.

The feud between GUTA and Nigeria traders in particular, span over 20 years.

Speaking to Francis on the Morning Starr Tuesday, Chief Nnaji said they have been advised by the Nigerian High Commissioner in Ghana to remain calm and do their business
"They want to be relevant, they want to be heard. Some of the are seeking political positions so they want to be relevant. Their concerns against us are not legitimate because we are ECOWAS citizens," he said.

Meanwhile, security analyst Dr. Kwesi Aning says the development could provoke a reaction from the Nigerian government.

"Why do we join particular International Organizations? What do we stand to benefit in joining those organizations? How best do we serve Ghana's interest in being part of those organizations? These are questions we must answer. Nigeria increasingly is dealing with its own internal challenges. If we are not careful Nigeria will be forced to react because they obviously will not be happy to see their citizens pushed around. More often than not, the rhetoric is fantastic. Sometimes we don't seem to recognize that what we have signed on to internationally binds us".