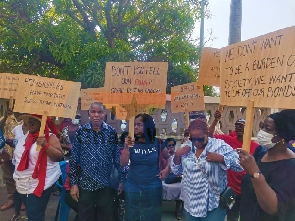 The Pensioner Bondholders Forum have given government a two-week ultimatum to allow it pay them their respective coupon rates on matured bonds.
The development comes after they accused government of defaulting in paying their yields on matured bonds.

Despite government's pledge to honor coupon rates on matured bondholders who did not sign up for the Domestic Debt Exchange Programme, pensioner bondholders assert that they are yet to receive payments of coupons and principals on their investments.

"If you exempt any bonds, you have effectively said as for your bonds, I don't have any problems paying so go and sleep anytime your coupon is due, just go to your bank and it will be there, that is the dictate of the market and government is not doing that we have drawn attention of government to that, is the third time we are doing that," Convenor of the Forum, Dr. Adu Anane Antwi lamented.

The Pensioner Bondholders however say they will resume picketing the Finance Ministry should government fail to honor the payments.

"We think that we will not allow it to continue and that's why we are saying if by 21st all these anomalies are not resolved for us to return to normalcy and get our coupons and principals as and when they are due, then we will resume our picketing" Dr Antwi is quoted in a Joy Business report.
Watch the latest edition of BizTech and Biz Headlines below:







MA