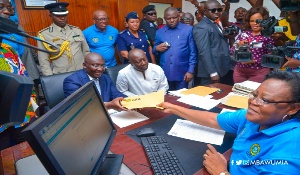 Vice President Dr Mahamudu Bawumia has directed the Ghana Revenue Authority (GRA) to develop a mobile application, which would enable the taxpaying public to file their tax returns on their mobile phones without necessarily visiting the GRA offices.
According to him, payment of taxes is a civic duty, but an app will enhance voluntary tax payment among Ghanaians as well as help reduce the cost of mobilizing funds.

He added that President Nana Akufo-Addo has directed all government appointees and public officials to file their tax returns before the deadline of April 30, 2018, to set a good example to the public.

The Vice President made these comments when he launched the 'Tax Awareness and Good Governance Week' in Accra on Friday.

The 'tax awareness and good governance week' is an initiative of the Ministry of Finance in collaboration with the GRA to encourage filing of annual tax returns and ultimately increase the level of voluntary compliance among the taxpaying public.

The week-long programme is on the theme ''Filing Your Tax Returns, Your Civic Responsibility'', with a number of activities lined up, including public sensitisation programmes, quiz competition, symposium, among others, to whip up public interest to pay their income taxes.
Tax returns is the statutory forms a taxpayer is supposed to complete on his or her income earned in a year of assessment and taxes to be paid within the year of assessment.

The Income Tax Act of 2015 (Act 896) and the Revenue Administration Act of 2016 (Act 915) required eligible persons to file their tax returns to the Commissioner-General of the GRA not later than April 30, every year.

Consequently, all taxpayers are required to file their 2017 and outstanding annual income tax returns by April 30, 2018 after which the required penalty would be imposed on defaulters.

The Vice President said the rolling out of the programme demonstrated the country's resolve to fulfilling the vision of the President moving ''Ghana Beyond Aid'' agenda.

He said to move the nation beyond aid, there was the need to strive to be self-financing to ensure sustainable development.
Dr Bawumia cited the economies of countries like Canada, Australia and Argentina, which about a century ago depended on taxes to propel their economic development, adding that, most countries in the Sub-Sahara Africa also largely depended on import taxes and excise duties for various infrastructural developments.

In that regard, he said, it was time all well-meaning Ghanaians joined forces and aligned their thinking to the paradigm of raising domestic tax revenue.

''The filing of tax returns and paying our fair share of taxes is much of our constitutional obligation as it is a necessary requirement to build a good society for ourselves,'' he pointed.

He noted that over the years the tax collected had not been sufficient to meet the demands of the people, including providing basic services such as education, healthcare, potable water, sanitation and maintenance of law and order.

"It was in this vein that all law-abiding citizens were supposed to honour their tax obligations so as to meet the demands and financial gaps for rapid and sustainable development" he indicated.
The Vice President drew the attention of Ghanaians to increasing donor fatigue, noting that, Ghana could not continue relying on concessional loans and charity for her infrastructural development, hence the need to mobilize domestic revenue to meet her development aspirations.

He said the government had declared tax amnesty to encourage taxpayers to register, file tax returns and make outstanding payments arrears without imposing of interests and penalties or prosecutions.

Dr Bawumia used the occasion to file his tax returns to encourage Ghanaians to do same.

Minister of Finance, Ken Ofori-Atta, in his remarks, stated that that Ghana beyond aid would only happen if the country was able to generate enough revenue to meet its needs.

He said the vision required that all Ghanaians rally behind the government to achieve the needed revenues.
He indicated that out of a potential 6 million individual taxpayers, only about 1.5 million of the number is registered with the GRA.

"Sadly, out of this number only a few submit their tax returns. We potentially have a lot of eligible tax payers who need to honour their tax obligations".

"This campaign is therefore a call to honour our civic duties and ensure that we position ourselves to get to our desired destination of Ghana beyond aid," he stressed.

He said government would continue to improve tax compliance and also pursue policies to broaden the tax net and reduce the burden on the few compliant Tax payers.